The PADI Open Water Diver course with AQUANAUTICS DIVE
If you've always wanted to learn how to scuba dive, discover new adventures or simply see the wonderous world beneath the waves, this is where it starts. The PADI Open Water Diver course is the world's most popular scuba course, and has introduced millions of people to the adventurous diving lifestyle.

What You Learn
The PADI Open Water Diver course consists of three main phases:
Knowledge Development (online, home study)  to understand basic principles of scuba diving,
Confined Water Dives to learn basic scuba skills,
Open Water Dives to review your skills and explore!

Prerequisites
To enroll in the PADI Open Diver course or Junior Open Water Diver course, you must be:
12 years or older (10 yr olds may take the class but there is a surcharge as the class size must be restricted by standard for supervision requirements)
Minors must have parental conscent and parents or legal guardians must be at all in water sessions, and boat. The exception for beach and pool is if the minor is able to drive themselves to an from the location.
Students must be able to get medical clearance from a doctor if required.

The Fun Part
The fun part about this course is...well, just about all of it because learning to dive is incredible. You breathe underwater for the first time (something you'll never forget) and learn what you need to know to become a certified diver. During the course, you'll make at least five pool dives and four dives at local dive sites under the supervision of your PADI Instructor.

The Scuba Gear You Use
In the PADI Open Water Diver course, you learn to use basic scuba gear including a dive computer, and standard accessories. The equipment you wear will be chosen by a AQUANAUTICS DIVE Representative to ensure your comfort throughout the course.
Personal Gear: Students must purchase Mask, Fins, Snorkel, Boots, Gloves, Signal Tube, Whistle, Octo holder, and some other miscellaneous items. Students get a 10 % discount on all gear not already discounted. Gear selection is taught during the first session of the course. 
Rental Gear: This is the rest of the required scuba equipment needted to go diving for most students. This rental package will be $60 plus tax and be for the duration of the class. 

The Learning Materials You Need
PADI offers a variety of home-study materials for the Open Water Diver course - book and DVD package or a multimedia DVD. Recently PADI has enhanced this program by offering the learning material in an Elearning environment via the internet.
Contact AQUANAUTICS DIVE to personalise the best study option for you if eLearning does not work for you!
PADI's Open Water Diver materials cover what you need to know about basic scuba diving skills, terminology and safety procedures. For each concept you'll read a description and watch a video demonstration. Then you'll jump in the pool (or pool-like environment) to practice these skills with your instructor.
Boat Fee: In our classes we try to teach the student how to dive both off the shore and dive boat whenever possilble as it is the proper training for our local environment.  This fee will vary depending on the class, boat and destination. Students should budget between $140 to $160 for the boat fee as an approximation.
Conditional requirements:
This is a group class requiring a minimum enrollment of at least 4 students to go as scheduled. If for some reason the enrollment is insufficient to make running the class econimically viable there are a few options. You can transfer to another class schedule if there is not enough. If there are only 3 then we can try to run the class as scheduled if all students agree to pay a $40 surcharge to cover the instructors cost that would have been covered with the additional student. You can opt to do a Semi Private (2 person) or Private Class. We want to find a way for the class to go as scheduled so we will see what we can do to be flexible. That said we do not expect our instructors to lose money to teach the class as we respect their time and expertise in what they provide. If you have scheduling conflicts that we can make adjustments for we will try to do so as long as all the students and instructor agree (Contact us so we can see what we can do). Our schedule is a plan but sometimes Mother Nature does not cooperate so we will adjust to whatever conditions we find. Your fun and safety is the primary concern. 
If the class does not look like it is going to meet the minimums the schedule may be pulled a week before the start date and any enrolled students will be presented with options. So sign up early. Plan ahead. Bring friends. 
The store is able to offer this pricing because of the expectation that the customer will be buying personal gear and renting equipment. As an incentive there may be a conditional discount in the package price requiring the the customer buy that personal gear from our store to support the pricing. If the customer does not want to buy the gear from us they may deselect the discount in the purchase and buy the gear where ever they wish. The advantage to buying the gear from our store is that you get a student discount on the gear and we can make sure it is the right gear for you. 
Please contact us and ask if you have any questions.
Related Products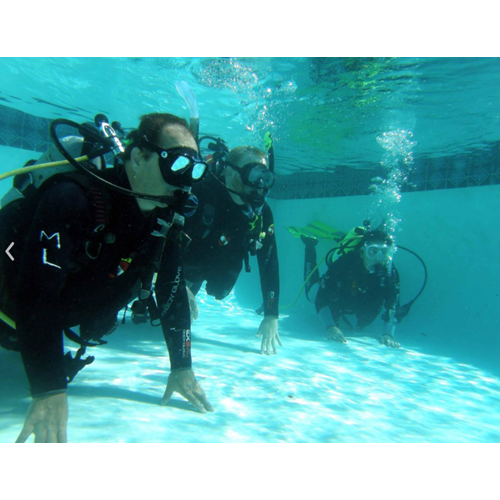 Discover Scuba Diving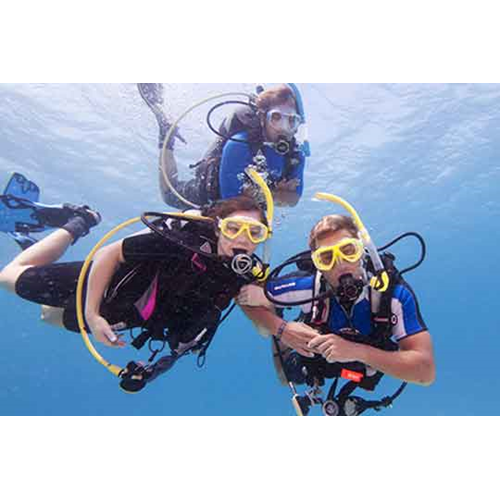 Private - Open Water - eLearning Course